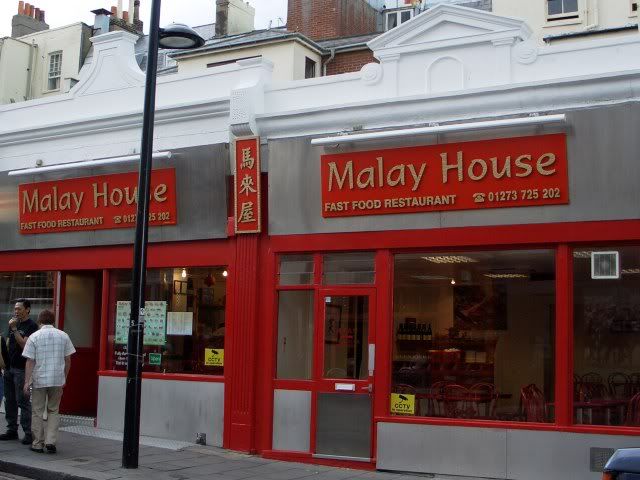 There is a new Malaysian restaurant in Preston Street, Brighton. About bloody time too. It sits on the old premise of China China (which has re-opened across the road on a bigger premise). The decor has been retained. Nothing has changed, not even the owner.
The more experienced waiters has stayed at Malay House while the 'more Chinese' waiters has been re-assigned to the new China China. I knew for some time that there would be a new Malaysian menu because, although not on the menu, they tend to sell us Malaysian specials like Rendang and Kangkung Belacan.
We have been going there for five years and the food is as good as ever even if it is a little expensive. Here is a partial list of what you can find there: Rambar Udang (£2), Tom Yum soup (£2), Penang Assam Laksa (£5), Nasi Lemak (£5), Chicken Rice (£4.50), Bah Kut Teh (£5), Booboo Chacha (£2) and Kueh Dada (£2). If you prefer the more traditional Chinese cuisine you would probably be better off at the proper China China or China Garden.
Malay House is situated on the hip and trendy restaurant area of Preston Street near the sea front.
Address: 73-74, Preston Street, BN1 2HG Brighton (
Map
)
Telephone: 01273 725 202

See updated review on Malay House.

Update (Jan 2007): We recently went there and found that the restaurant has since shut down. The reason being nobody goes there (except us). Apparently you guys prefer generic 'Chinese' food like sweet and sour pork and fried rice and other stuff like that! Shame on you. Arghh!