Sunday evening was spent cleaning up the bedroom. Got me a new duvet cover and pillow cases yesterday from Central London. What do you think? Too girly? Too boyish? Too metrosexual? Don't care? The warm colours do seems out of place in this hot summer days but for some reason I think it works. It was about time too - I have been using the same old covers for two years now.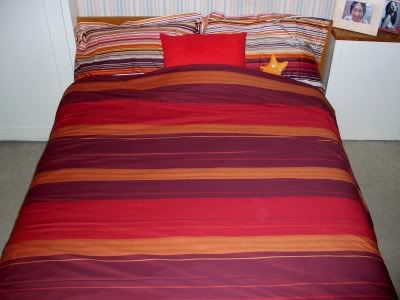 -
Was in Soho Saturday night. We were just out having a dinner and drinking at a bar. The bouncers were having a busy time searching everyone. And I mean everyone. Almost naked gurls on hen weekend parties had their mini purses (how do you fit a bomb inside a purse may I ask?) searched. Even OAPs (who were obviously in London for the VE celebrations) had their handbags searched. Everyone. Well except me, I only brought my wallet and mobile.

Added (5pm): I am glad tube drivers are still the 'cheerful' bunch they are. Yesterday on the Victoria Line, our driver was, for some reason, a very happy bunch almost oblivious to the fact that there were three bombed Underground trains. He set about trying to entertain commuters with amusing voices and such over the tannoy. Sorry, no recordings. Although he did not do jokes (more like funny voice overs) it was still a relief to find that Underground drivers are strong and capable to rise when situations demanded them to be.

For funny train drivers' announcements check out The Mole.