Check out August 2005's FHM. It is now available in three sizes. Not too sure whether this is a one-off stunt by their marketing division. They have the normal A4 size used by many glossies plus a smallish A5 - usually found in many women fashion/beauty glossies, plus a huge (A3?) size, similar to Hello or OK! (possibly smaller). The small one is too small. I can't believe Jenni is able to read those smallish Glamour magazine. The huge one is just too heavy. My preference would be the size (someone between A3 and A4) used by the now defunct JACK male magazine.




My grand aunt finally replaced her Pentium junk. Shown is a HP Pavilion ze2000, an entry model with Intel Celeron M 1.3Ghz, 40Gb Harddrive, 256Mb RAM and DVD+-RW drive. We got it from Staples. Okay it isn't a earth shattering model. My previous notebook, the Dell Inspiron 8000 with its 1Ghz PIII and 512Mb RAM with a UXGA screen beats the crap out of it and that was 3-4 years ago (I sold it 3 months later for a profit) but seriously though for the price (less than £500) it isn't a bad piece for someone like my aunt who only uses it for e-mail, Interweb and word processing.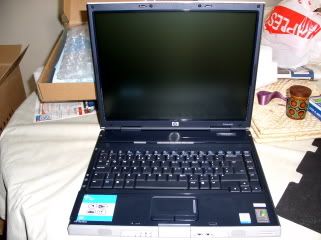 Took this picture from the entrace of McDonalds at Leicester Square. They had a LCD screen on the wall with what seems to be constant live feed from their public toilet. It is true then what they say about reality TV shows like Big Brother, in their preparation for public acceptance on CCTV cameras everywhere.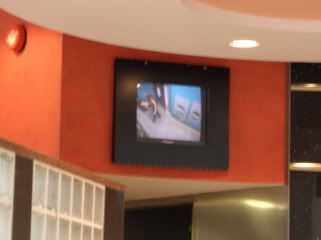 I will be going down to Brighton this Friday for about a week to help Jenni move in to a new studio flat on Lewes Road. It will be further away from her office at Moulsecoombe but it will also be much nearer to town with easy access to a Megabus bus stop at St. Peter's Church and the train station. You can even see London Road's high street from her 2nd floor flat (although the church will dominate the view - blah!). Our favourite Thai restaurant also happens to sit almost directly opposite the flat.