My Amazon UK order has finally arrived. Been testing it for a few days now. The sound is a little muddled for now. Am going to give it a few weeks to break in before concluding.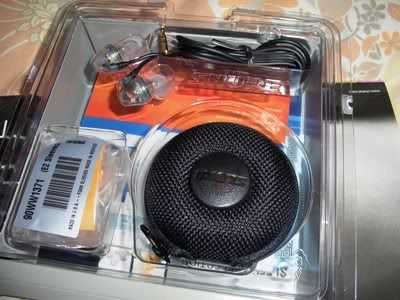 The packaging is impressive. You get three pairs of foams sleeves and three pairs of plastic flex sleeves, a soft carry case, user manual, a set of wax filters and warranty slip.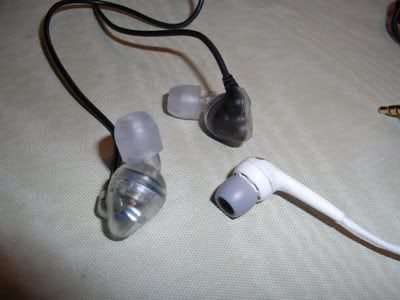 It is huge when compared to Jenni's Sony MDR-EX71SL.
You will need to apply the wax filter before using it. There are five pairs that comes with the e2c.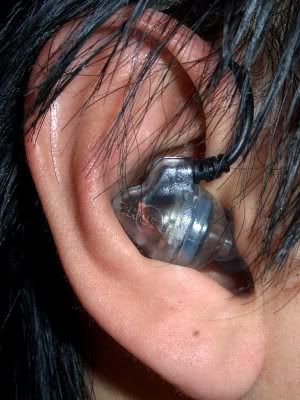 All Shures are required to be worn over the ear as shown above. This is pretty comfortable but needs getting used to. Not a perfect set of earphones for people who needs to remove it quickly. The cables then goes through the back of the body instead of the front. (My ears looks greasy - yeeuch..!)
I picked up sounds that I have never heard when I tested it with British Sea Power's
The Decline Of British Sea Power
album using Jenni's Palm Tungsten T3 (PocketTunes Pro 3.x). The production on this album is very raw so there were many background noises that was picked up even at low 64kbps Ogg compression.
At a lower compression (128kbps) the sound quality improved vastly. Previously I wasn't able to tell any difference between a 64kbps and 128kbps encoded tracks but now it is possible. I will stick with 128kbps for now until I get one of those 4Gb SD cards.
The noise isolation is terrific. I am using it with the smallest pair of plastic flex sleeves and was riding on the tube and hardly heard a thing apart from the occasionally train screeches. The isolation is much better than the EX71SL.
The build quality is extremely well done. The cables are thicker than matches. Very tough. The e2c should be able to cope with very harsh usage. Hopefully.