Dataviz
released Dose-a-Day a couple of years ago. Only recently have I obtained a copy of the
Dilbert
edition for Pocket PC. Installation is as routine as any Pocket PC installation through ActiveSync (the PalmOS version will install via HotSync, a HotSync conduit will also be installed). A PC sync program is also installed on the PC site.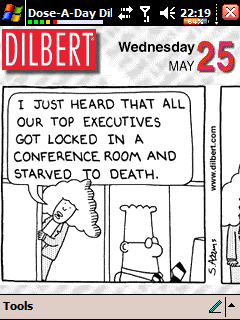 This is the screen you will be greeted on executing the application. The strip for the day will be shown. Because PDA screens are small you need to use your stylus to drag the strip or the hard buttons to view the next box.
You can view past strips but not future strips (unless you cheat). The number of past strips are dependent on how many days of strips you allow to be synced onto your PDA at any one time or whether you have favourites. The options will be on the PC sync program.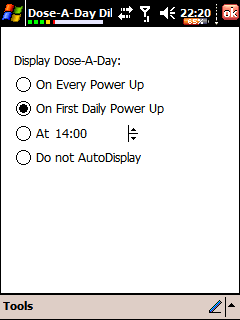 You can set display options on when whether Dose-a-Day be allowed to automatically power up. It won't power up automatically if you install the application onto an external storage card.
I own loads of Dilbert books and was lucky that there are some strips here that I have yet to read. There are a couple of classics too. At US$20 however, I wish Dataviz would put out 'refresher' strips on their site for those who owned this product for longer than a year.
If you are not into Dilbert, Dataviz also sells
Golf by Gary McCord
and
Close to Home
. All are compatible with Windows Mobile for Pocket PC and PalmOS.