My DVD-ROM has finally gone kaput. I got this more than three years ago in one of the many dodgy Tottenham Court Road shops for £50. Back then that would be considered pretty cheap. It is an OEM drive by a Taiwanese company called BTC. It was alright for the first few months but later on it started skipping. It was so frustrating that at times I had to copy DVDs first to my harddrive before watching them.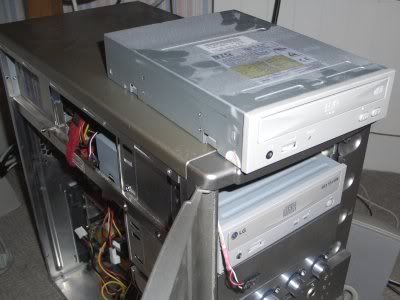 Well last night I was trying to watch Silence of the Lambs and the drive kept spinning nonchalantly. Windows XP would lock up whenever it couldn't detect the disc inside. After many tries with different DVDs I finally pronounced the drive dead.
Well it gave me the perfect excuse to start looking at purchasing a DVD writer. Prices are at an all time low. This
Philips
for example costs 35 squid and is able to write to 8.5Gb DVD+R DL discs. Plus it has a black front. Me likes that colour. But this
Toshiba
seems to be a little faster especially when writing Dual Layer for the same price.
To tell you the truth my knowledge in DVD writing technology is a little suspect. I do not know which is the better of the two, DVD-R or DVD+R. Reason I have been ignoring the technology was I had hoped that high capacity optical disc writing technology like Sony's Blu-Ray would be released to the UK soon. But I doubt I can wait that long.

Btw, here is a picture that probably summed up our bank holiday: