TomTom Navigator 5
supports GPS hardwares includes TomTom's own Cable GPS and Bluetooth Wireless GPS, other Bluetooth Wireless GPS and other NMEA Cable GPS.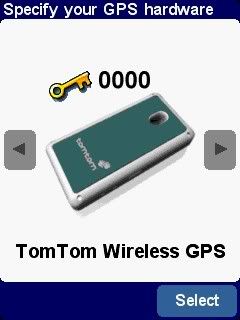 Over 100Mb of storage space are required for the Great Britain map. Obviously if you are planning to install the whole of TomTom's European map then it is advisable to invest in a 2Gb card. Maps are provided by TeleAtlas which aren't known for their accuracy. According to Pocket GPS, future versions of Navigator TomTom may allow customers to choose between TeleAtlas datas or NAVTAQ datas. (
Read this
)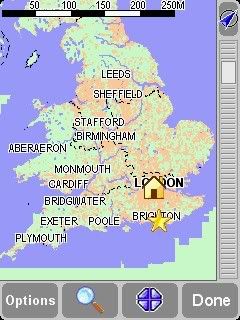 A detailed map of East London. Notice the speed cameras. You can download speed cameras and other POIs from
Pocket GPS
. Map loading is significantly faster than on TTN3 (yes, it is faster than Google Maps):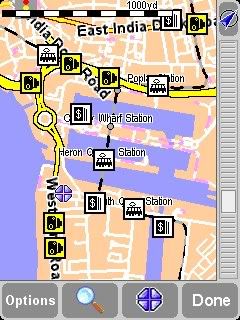 New to TTN5 is the ability to search for nearby POIs. Neat huh? POIs are completely customisable: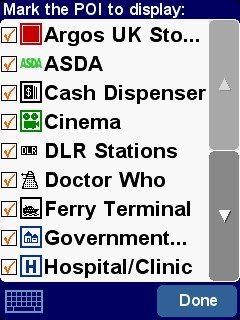 Such as
Doctor Who
film locations: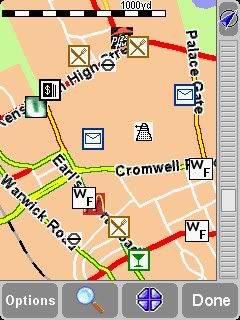 I find the 'fastest route' calculates the best route for journeys on automobiles but it will usually recommend you onto motorways. 'Shortest route' option is pretty buggy - TomTom may dump you on a M road then back to an A road and so forth. Not very efficient.
A summary of a route calculation with the distance and estimate time: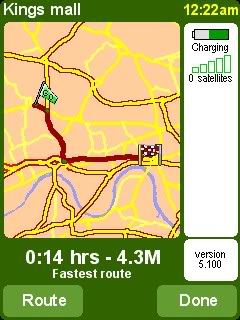 Once you are ready, TTN5 will wait for you to start moving. Displayed here is the navigation route and the current position of the user: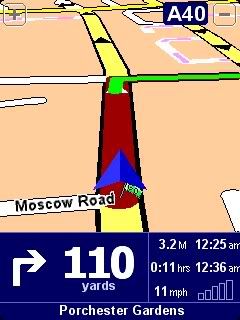 If you prefer, you can switch to 2D view: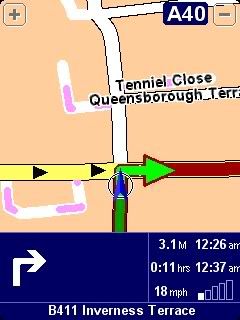 Night mode produces less glare in the eyes: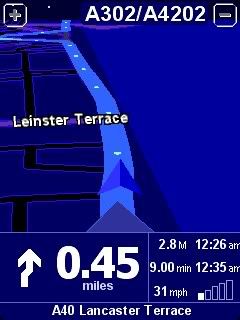 You would need a TomTom Plus subscription account, Bluetooth mobile phone with GPRS account in order to gain access to TomTom Plus features such as traffic updates (accidents, jams, road closures etc.) and weather information. Nice new icons too: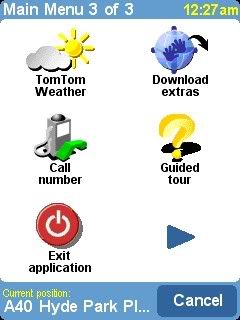 Landscape mode is supported by TomTom and is natively from the Pocket PC OS (which means you won't need to switch your PDA into landscape mode before firing TTN5). I prefer the portrait mode as I find it doesn't waste space but it's nice to have a choice.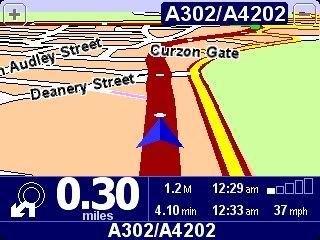 GPS status provides users with other useful information such as signal strength to GPS satellites and current location: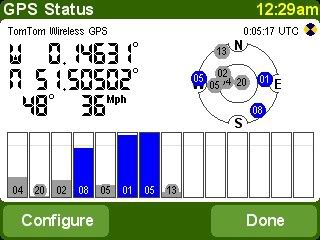 There are a couple of issues. The route planning section (map) isn't as friendly as previous versions. While previous Navigator versions allow users to start on map default rather than navigator mode this doesn't (unless I miss something).
As a TTN3 and CityMaps user I find the menus a little too 'foreign' (click for a screenshot of TTN3). The new GUI first debuted on the PalmOS and TomTom Go platform and this is the first time it is used on the Pocket PC platform. The user interface is rich in colour, pleasing to look at and probably easier to those with large thumbs. Unlike previous versions of Navigator, it is apparent that TomTom has designed the GUI for car navigation first.
There are a couple of missing features from TTN3 and while the menus are 'nicer' looking the user friendliness is gone for those who prefer to use it as a mapping software. Even to exit the program you will need four taps.
I am no GPS expert but this thing is dead useful. I have been using TomTom products for a number of years from CityMaps/Routeplanner to TTN3 and now TTN5. While the quality of the map is suspect (
Jennifer
's home is missing in this latest data!) the program itself is wonderful.
At almost £200 for the GB map and TomTom's own Bluetooth GPS receiver it isn't a cheap investment. And that does not include the door to door European maps (only Major Roads of Europe). A much cheaper solution is to buy the software only (GB plus Major Roads) for around £50 from other sources and buy the GPS receiver separately.
TTN5 is compatible with most Pocket PCs (over 2002) and PalmOS 5.x devices (high-resolution devices). If you have a Symbian Series 60 or Microsoft Smartphone mobile then you will need
TomTom Mobile 5
.

See also: Pocket GPS for a more detailed review