I wanted to purchase

No Angels

DVD box set for quite some time. Meaning to order it from Amazon but it is too expensive (£22). Finally came across a high street store that had one in stock for £14. I caught the first series when it first aired but missed a couple episodes here and there. I am huge fan of it and the
second series
currently shown on
Channel 4
Tuesdays 10pm is even better (the scene where the whole ward brawled was a classic).
No Angels
is produced by World Production for Channel 4. The 'medical' drama is based on four nurses and their constant battle for female supremacy with fellow doctors in a NHS ward in Leeds. They mix work and play together, enjoy loads of sex (well except Lia).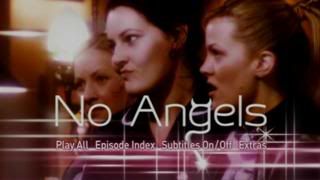 The box set comes in those cardbox which is typical for Channel 4 DVD series. The high quality packaging is very similar to their

Teacher

s box sets. The
series one
box set comes with three DVDs. Bizarrely the second DVD (DVD5) only contains two episodes while the other two juggle four episodes each. The third also comes with extras. Picture quality is excellent as you can see from the screenshots here (click for full size screenshot)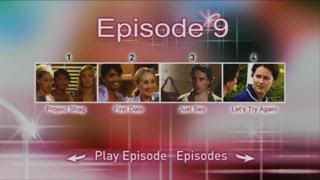 The extras are not that special. The usual cheesy out takes are there. The production crew also gives a tour of the sets mainly the ward, the pub and the girls home. A making of short is also somewhere there. Nothing really interesting.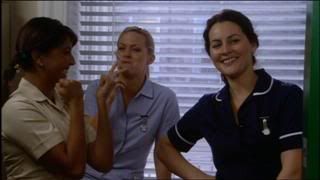 The great thing about this series is the portrayal of the girls as vulnerable. They may be glamorous yet they rent a flat together. They are modest and act like what most normal people would do on a Friday night - such as having a booze-up, taking drugs and general knobbing around. And the series is not only about naughty horny nurses but also takes a pop at real issues such as the deteriorating state of the NHS and arranged marriages among British Asians.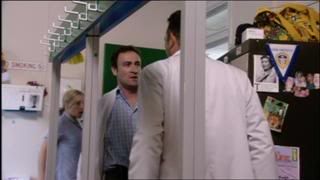 The acting is great. The performance by the cast is excellent and certainty beats some of the usual humdrum we get from other sitcoms and soaps. James Frost playing the constantly hacked off Callum is great as is Francis Magee as senior doc McManus (he is even better in season two).
Forget bollocks like

ER

and their professional baloney. This is what real hospitals are. If all nurses are like Beth or Anj, I would pray I fall sick often. Just look at Jo Joyner. What a looker!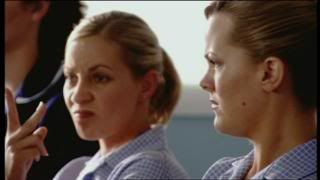 Some of the jokes cracked might not be suitable or even understandable outside Britain but that shouldn't stop you. The humour is great and this is a suitable introduction to British comedy/drama.

Update 9.15pm: Added screenshots