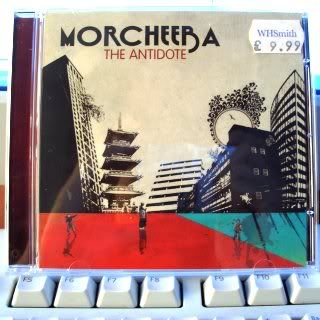 This is my first ever Morcheeba album. It was quite a shock really. I was expecting an alternative rock kind of sound but what I got was a fusion of soul, blues, rock and country. The so called architect of 'trip-hop' whatever that means, got me hooked from the first track.
The tracks are downbeat, extremely catchy and melodic.

I can't name examples of other 'trip-hop' bands, but for the first track,
Wonders Never Cease
, I detected similarity of uhm... The Carpenters and that
Casablanca
song. Not sure which one. But anyway it was good and I like it. The new vocalist Daisy Martey was amazing. Next to Shirley Manson and Ana Matronic, she probably is one of the best lead female vocals in a band.


If there are any other bands with

similar

sounds with Morcheeba it would be Groove Armada, Massive Attack, Portishead and the venerable Dido. The guitar riffs, though barely audible, are mostly 70s influenced. Hints of Scissor Sisters are also present. The use of other instruments are also present: piano, trumpet, French horn, flute, picolo, trombone, tin whistle, just about anything weird.


I have to say it got a little boring towards the end. Maybe I need to give this album some time. I mean I only got this yesterday and having only had the chance to listen to it once this morning I shouldn't be passing any judgements yet. Few weeks ago I was composing the review to Feeder's new album and I wanted to give it a 3 out of 10. But I finally grew on their pop rock sound and I would probably give them 7/10 now.
Initial assessment: 7/10