I was looking through some boxes and found one of my very first mobile. The Motorola StarTAC 75+.
Ah...memories. A little bit of history on how I came to own this mobile. Because I wasn't 18, I had to lie about my age in order to get a contract with Vodafone through Phones 4U. My first choice was the Ericsson GF788 but that costed a bomb so I had to settle for this. Monthly payment was roughly 20 quid for 45 minutes of any time calls (back then it was alot).
Steve, the eccentric branch manager was kind enough to dump me a free cheap lousy faux leather case, while also recruiting me in a drive to bring in more customers.
I would earn about 25 quid for every new customer I bring into Phones 4U. By the end of 1998 I had collected about 150 quid in cheques.


image: StarTAC 75+ next to my current PDA mobile, i-mate JAM

This cutting edge mobile can only operate on GSM 900 frequency and weighs 112g. The alphanumeric display is capable of displaying 2 * 12 characters. Ringtones are monophonic. The phonebook has a capacity of 100. The mobile is able to connect through WAP CSD at 9600 bps. SMS is standard. The battery provided was a 500mAh NiMH variation. Who needs a Motorola RAZR V3 to impress? Back then when I was commuting between London and the midlands people would look in awe at that 'tiny mobile'.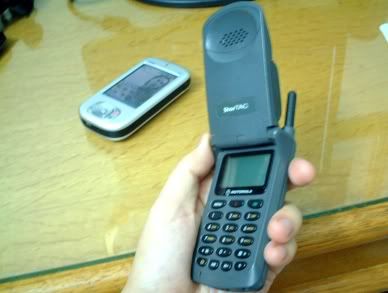 image: Sexy...



This model was released along with the slightly better Motorola StarTAC 85 which was far more expensive but contained a clock and superb 4 * 15 character monochrome display. It was also a testament to the future of Li-Ion battery. The 85's battery is about half the size of the 75's NiMH battery and yet contain 400mAh more juice.
The StarTAC 75+ still works although the battery only lasts a few minutes.
Back then if Motorola worked hard enough the 75/85 could have been as slim as the RAZR V3. About 3mm of thickness was wasted on the 75/85 because Motorola decided to include a full credit card size sim card slot.