Skype 1.0
for Windows has just been released today!

For those who don't know, Skype is a P2P
VoIP
application. In English it means you can make free phone calls to other users over your broadband connection. You can also text chat with your mates if you prefer or if you are stuck with dial-up or GPRS.

Perhaps the most significant advantage of this app is Skype has a feature that enables users to call mobile phones or landlines around the World at local rates. Its called
SkypeOut
and was launched a few weeks ago. You can check out the rates
here
. Skype also deliver better quality when compared to
MSN Messenger
,
Yahoo! Messenger
and
ICQ
.

Skype is being developed by the people who created KaZaA. I know...it could contain disgusting spywares but last I checked - it did not. Plus, they are making some money out of it through SkypeOut - so I do hope that it stays that way.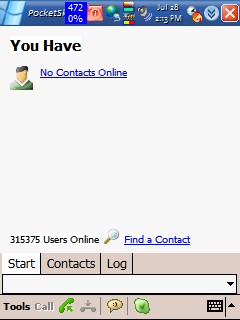 Pocket Skype on PocketPC



1.0 for Windows features significant improvements over previous versions (beta) of Skype. So make sure you try it out. It also features file sharing. If you have a WiFi'ed PocketPC PDA, you can download the PocketPC version of Skype
here
. Linux users can get their version
here
. Both versions contains SkypeOut functionality. Mac users are out of luck - as usual.