This appears to be the first solid evidence of a new consumer oriented
BlackBerry
smartphone. Gone is the QWERTY keypad and the widescreen LCD panel. It actually looks just like a normal candy bar consumer mobile phone. The pictures first appears on HowardChui.com site but since has been taken down - probably due to legal threats from RIM (the same company that loves to sue).
First impression is ugh. I am not so sure whether this design could win them any new fans. It might be a prototype which I hoped it is because I hate the design. They really should stick to the current BlackBerry design.
I have always loved the BlackBerry design because it has a nice QWERTY keyboard which is probably one of the best (besides PalmOne Tungten C's keyboard) thumboard on the market. And now they are removing the QWERTY thumboard!
The RIM BlackBerry is now the third best selling PDA on the market behind
PalmOne
and
Hewlett-Packard
's iPAQ. It is very popular among businesses. Every time I go to Canary Wharf I would be treated with a feast of non-techie BlackBerry users all playing with the messaging service flirting with their co-workers.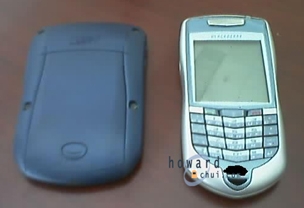 Photo of the smartphone next to a back-sided BlackBerry (
HowardChui.com
)
Souce:
Brighthand