HTC Magician Review
published: January 4th 2005 (last update: January 12th 2005, May 5th 2005)
applies to all models bearing the name: imate JAM

,

Qtek S100

,

O2 XDA II Mini

,

T-Mobile MDA Compact
, Dopod 818, Orange SPV M500, Vodafone VPA Compact


I have been using the HTC Magician (
i-mate JAM
) exclusively for the past three weeks ever since Expansys shipped it (after weeks of waiting). This device runs on Windows Mobile 2003 Second Edition for Pocket PC Phone Edition (probably the longest product title in history). It contains a 2.8" 16-bit LCD screen with 320x240 pixel resolution, 416Mhz Intel PXA272 X-Scale processor, 64Mb ROM and 64Mb RAM. The device costs £400 inc. VAT from
Expansys
.

Upgrading from Hewlett Packard's iPAQ h4150, I was immediately warmed towards the screen. Why? Because this screen does not suffer from yellow tint if viewed from a low angle. And while is did not shipped with a VGA screen the low dot pitch did make everything feel sharper. Despite this I still feel that HTC should have included a 18-bit display instead of 16-bit.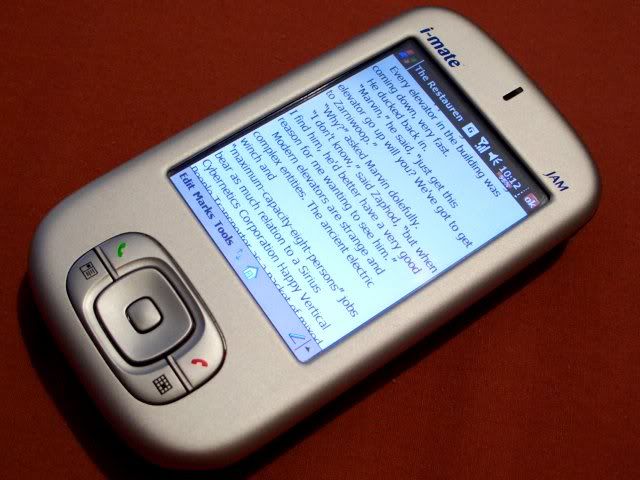 The processor feels slower than my h4150. This is mainly because the PDA is running the latest version of Windows Mobile 2003 which is more bloated than the vanilla version. Also the processor speed of 416Mhz is not 'sticky' therefore is always scaling down to save battery power. So far no utility has emerged to overclock the processor however Immiersoft is working on updating the popular XCPUScalar application.
Update (10/01/05) : Pocket Hack Master is now compatible with the HTC Magician. The maximum clock speed I can get to is 520Mhz (130Mhz bus). This in my opinion is quite a poor result. However, PHM has only prelimanary support for the PXA27x so hopefully my JAM can soon support 200Mhz bus speed.

The mad thing about this device was the weird implementation of Extended ROM. Extended ROM is where HTC keeps some of its bonus applications and utilities such as PhonePad, Photo Contacts etc. The device will execute each of those CAB installers from the Extended ROM after every Hard Reset and install them into RAM. So by the time you Hard Reset, you would have wasted 5Mb of precious RAM storage. Because the CAB files remains in the Extended ROM, only about 8Mb of ROM storage is available to users.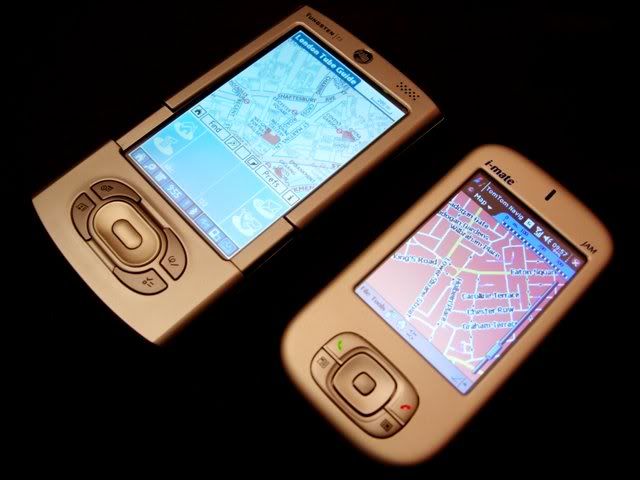 Here is a tip. If you think you do not need some of the applications, you can always do a hard reset and go through all the usual Microsoft 'tutorial'. Once you hit the screen to enter the Today Screen, do a warm reset. The device will reset and once rebooted you can access the Extended ROM folder using any file utility program. Once there you can install any of the programs you want to manually. Doing this saved me around 2Mb of space as I did not need the MMS (why isn't this in ROM?) and Java. Right now I am evaluating whether PhonePad is useful or not. Deleting it would save me 1Mb of RAM space.

The JAM comes with Bluetooth v1.2 and uses Microsoft Bluetooth stack. Worst decision ever! I would have preferred that they have chosen Widcomm's excellent bluetooth implementation that resides on so many Pocket PCs.

Some has complained that the JAM lacks WiFi. Being a resident of London, I find that WiFi is pretty much useless due to the lack of free or even cheap WiFi access. I do not want to pay for overpriced coffee everytime I want to check my e-mail. That said, WiFi is useful - but not a deal breaker.

The IrDA is located on the right side of the PDA. A weird location but not as bad as my h4150 (located on the bottom next to the serial connector!). The IrDA is not CIR (consumer IR) based so using the JAM as a remote control is not advisable. It would work but probably at a short distance (1-2 metres). Your milage may wary.

The form factor is very nice. The small size (although quite heavy) is perfect for my hands. I have tried other Pocket PC phones such as the o2 XDA II and found them to be too big. However the i-mate JAM size is similar to Sony Ericsson's P9xx line which I think is the perfect form factor for data centric PDA phones. The sad fact about this device is although the case appears to be constucted from aluminium, its actually plastic. I understand that metal such as alloy hinders mobile phone reception so I shouldn't really be complaining.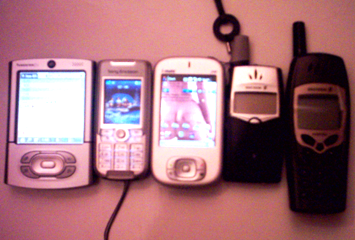 Left to Right: palmOne Tungsten T3, Sony Ericsson K700i, i-mate JAM, Ericsson T39m, Ericsson A2618

The speaker is oddly situated at the back of the PDA. I have to flip the JAM backwards if I want to use speakerphone mode if not the speaker would get muffled. Its bizarre for HTC to build the speakers at the back. Maybe its justified as the only space on the front left that a speaker could be situated is the joypad (ala iPAQ), but that sits too closely to the microphone. Maybe they should have built it on the side like some Nokia mobiles.

There are four buttons on the front however two are dedicated phone application buttons. That leaves only two buttons for launching applications. This could prove frustrating to gamers as some games would not recognize the call/end buttons. (For a list of compatible games, see my post at
Compact Jam
.)

I also find the lack of keyboard (QWERTY or traditional phone pad) was quite annoying. Sending SMS has to be done via a stylus which I am not too happy with. Imagine standing in a crowded train trying to text someone! The included PhonePad application (IntelliPad) aims to rectify that by imposing a giant virtual mobile phone pad with T9 capabilities. However to get into the Messaging application still requires the usage of stylus.



Update (10/01/05): Those who really need a keyboard, I advice you to wait for the

BenQ P50

, palmOne Treo 650 or the HTC Blue Angel (QTek 9090, T-Mobile MDA III,

Orange SPV M2000

, i-mate PDA2K, O2 XDA IIs, Vodafone VPA,

Siemens SX66

).



Speaking of stylus, this is the worst stylus that has ever had the opportunity to graze my delicate fingers. It is even smaller than the styluses that came with my Sony NR70V. Why can't they design a spring loaded stylus with enough thickness? I suggest the designers at HTC to take a look at palmOne's Tungsten T-T3 line for inspiration on creating a mighty styli.

My JAM features supports tri-band GSM frequencies (GSM900, GSM1800 and GSM1900) as well as GPRS (Class 10). No complaints there and it works on my O2, Virgin and old payasyougo BT Cellnet sim card.

Phone calls quality are at best average. Voices would appear to be coming out from a tunnel. The quality is a little sharper than my former Nokia 7610 but it lacks bass that are apparent on Ericsson mobiles. I can't say I am happy with the quality but I am not mad either. i-mate has stated that they would be releasing a ROM update to address this problem.

The JAM has a 1.3Megapixel CMOS sensor built-in for its digital camera duties. While on paper it sounds nice but the quality is amazingly bad. Even the 7610 with its 1Mp output produces better clarity than this. Needless to say the camera is best used under the sunlight or places with bright lights. Resizing down to VGA on my PC did improve the quality a little bit.
Windows Mobile 2003 Second Edition for Pocket PC was supposed to introduce native landscape support and better a better Internet browser. This is all bollocks. Landscape support is crippled. Microsoft mobile division should learn from the skilled engineers at palmOne. The Tungsten T3/T5 landscape support is the best on the market. Pocket Internet Explorer was supposed to be faster too. I did not notice anything faster. I tested loading Compact Jam forum site and PIE took more than a minute to load whereas WebPro 3 on the T3 took about 20 seconds.

Despite some short comings, I am very happy with the device. Right now I am keeping this device for the foreseeable future. I do hope palmOne will release a new Treo that would bring me back to PalmOS's camp. palmOne has yet to release a GSM version of the Treo 650. Even then the Treo 650's lack of memory and fast processor is something I am not too keen with.
There are more powerful mobile phones or PDAs out there. However as far as convergence devices go, I personally believe the i-mate JAM is the best because of its size. Sure I prefer the retro design of Sony Ericsson P9xx smartphone, but it does not come with either Pocket PC or PalmOS. .
Hopefully the next iteration of the Magician would have a 3G tuner inside, 128Mb RAM, 128Mb ROM, VGA 18-bit OLED screen, better stylus, more hard buttons, 2Mp CCD 2x optical digital camera, WiFi 802.11b, FM/DAB radio.

If you have any questions, feel free to post a question on
Compact Jam
. My username is jonchoo.